Munster Legacy Plant Demolition
Adelaide Brighton Limited, Cockburn Cement Limited
Top-down demolition and removal of slurry bottles and ancillary plant structures
Shortlisted:
Contract of the Year under US$1 million – World Demolition Awards 2022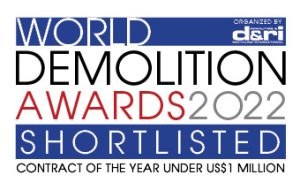 Demolition of Kiln Stack 2 (62m in height)
Demolition of Kiln Stack 3 (64m in height)
Demolition of Kiln Stack 4 (84m in height)
Demolition of Slurry Bottles and associated infrastructure
Demolition of other redundant plant infrastructure onsite
Deteriorated Plant
Extensive Working at Heights
Community Engagement
Neighbouring residents
Live Train Line
Live Plant Operations
Running from August to December 2021, over 400T of steel was processed and recycled, and over 4,000T of rubble was reused onsite.
A camera system using a low latency 5.8GHZ link provided real time video connection to weatherproof cameras mounted on the pulveriser.
The purpose-built pulveriser attachment was suspended by a 275T crawler crane had had 155T of cutting force and required minimum 5,075 PSI of operating pressure.
A specialised Komatsu PC490 demolition excavator provided power to the pulveriser through 100+m of hydraulic lines, allowing operators to remain outside the line of fire.
The demolition area was adjacent to live plant, within meters of a rail corridor and residents.
Our priorities are health and safety excellence, local community engagement and environmental responsibility